Need a solution for banger-to-heat-coil mounting and installation? RCC TOOLS has you covered with multiple solutions for any style banger. Need a custom solution? Contact today.
Your support contributes toward an expanding an ever-growing collection of some of the most heady affordable dab gear online designed and shipped from the USA.
The Cannaclamp is comparable to a Revlon hair-straightener press that was spliced with Transformer DNA and had nitrous-oxide injected to the engines. It's the perfect size for pressing kief, dry sift, etc., into a beautiful rosin flow within minutes. No bulky presses or hitting your shins on a hunk of steel that feels like it weighs as much as it's pressure rating! No storage hassles or heavy lifting with the Cannaclamp. It will work anywhere that US power plugs are located (power banks are also a possibility– contact if interested).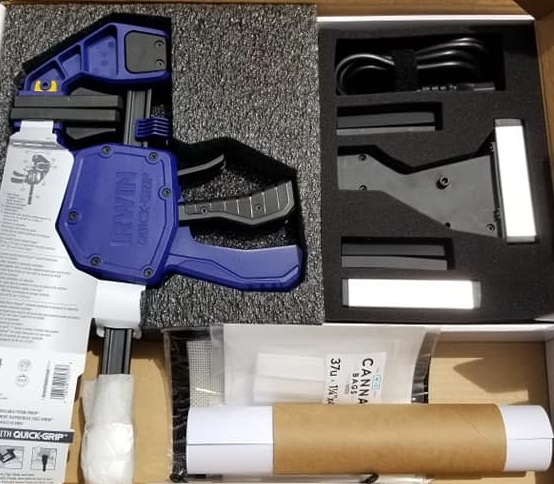 The main clamping force which can now be replaced with a larger number of clamps (Irwin and Dewalt) in case something happens to yours you can still use the plates on a different clamp as well. 600lbs of force and a smaller plate means easy squishing and more precise temperature controls allow you to dial it in your preferred #dabtech!
Heat plates which are now configurable to 5 degree increments via the integrated PID and get you all the necessary rosin temps from 100F to 300F.
Plate fastening apparatus – keeps the plates nice n' cozy with the clamps
V2 plates are strong and reliable.
Parchment paper for pressing flower, keif, sift, bubble, etc.,
Mesh bag for pressing flower, keif, sift, bubble, etc.,
*E-NAIL BENEFITS OVER A BUTANE TORCH INCLUDE:
>>>steady, convenient, continuous 710 nail heating
>>>more precise control over temperature ranges whether using SiC or quartz (with or without insert cup)
>>>will stay usable & maintainable for the longest
>>>Concentrates have less tar & plant matter than flower
>>>Temperatures stay lower than with non-vaped flower but also dab "heavier" than a vaped flower
>>>full water filtration (compared to most concentrate pens)
>>>Read more about the difference between using an e-nail vs. a butane torch
Stable & reliable industry standard PID electronic temperature unit.
Heat coil plugs into the top to minimize footprint and maximize counter space.
Individualized marble like paint finish makes each case unique
*RCC TOOLS: ABOVE & BEYOND SINCE 2015
…Best value in dab gear at an affor-DAB-le price point!
…Designed, molded, painted enclosures which are injection molded in Florida & then are painted and installed with electronics in Oregon.
…Evolving production & collection of the best complimentary dab accessories to make choices easier
>>>Design your own heady dream-nail! 3D models and physical objects are welcomed to be measured and analyzed for size appropriateness.
>>>Attentive and responsive customer service
>>>Limited runs on select custom e-nails
Hand-crafted design and love on each heady e-nail project!
Have your own idea for your dream e-nail enclosure? Feel free to contact or browse the "Custom E-Nail Set Section". Custom e-nails are often made from found objects such as old toys, etc., to be transformed into a unique and personal heady piece. These can be kept exclusive so you are the only one that owns one (unless someone else makes one of course). If  you have an item to be transformed into an e-nail don't hesitate to snap a few shots and send them over for design analysis
Electronic control of nail temperature is the most convenient & efficient way to achieve reliable, predictable heating for your personal concentrate sessions- Whether CBD, BHO, rosin, distillate, full spectrum extract, or full melt sift! With an electronic temperature controller you never have to guess if it's ready– or if it's already cooled down on you. Suited amazingly well for both #stopdropandglobs and/or consecutive smaller "tasters" & everything in-between!
Eliminate or minimize torch refills, spent cans, dead batteries, & worn out parts! An e-nail is much easier to keep fresh and clean than a typical pen atomizer (especially using a SiC dish) and much more economical than disposable pen carts. If you are a daily dabbasseur and/or have frequent group sessions, a custom e-nail is a great option FTW on convenience & style. Shelf that torch (until you need it to remove your gummy ass nail!) and switch to heady steady electric heating from an RCCtools custom e-nail. Portable versions are still projected for 2018 which will enable on-the-go and outdoor sessions with that good ol' e-nail-level-dab!
RCCtools individually paints & assembles custom e-nails in the USA, and can take on a wide range of custom project ideas to top your collection at a reasonable price. Designed, assembled, and painted with many happy customers since 2015, RCCtools controllers are proven reliable by the test of time. Using optimally-tuned PID controllers and solid state relay technology, "the electronic brains" are reliable, safe, and accurate. Customer satisfaction is a priority (see testimonials).
Booking a flight to rosin city? RCCtools can help pack with the best collection of value and heady dab gear online sourced from the USA and worldwide. The simple mission is to offer the most affordable dab products that I find to work the best and satisfy my thirst for style. Each item should have clear value and there is something for every dabber's collection here. I always love to hear your suggestions if you genuinely love a product that you don't see here.
Don't see what you came for? Have a question about your flight? The contact page is yours to use! #wfayo?