3D Printing Is Finally Accessible To The Stoner Masses & #dailydabbers!
Since Stratasys' 1992 patent for 3D printing expired, companies such as MakerBot and others began making it more affordable to the masses. When I first looked into these home units they were upwards of $2000 per unit. Nowadays, a decent 3D printer is affordable to pretty much anyone willing to shell out just over a couple hundred bucks! I got my first 3D printer for just over $200 for printing customized enclosures and various cannabis related gear. That's pretty decent considering the first quote I received just to print out one piece was not very far below that.
3D printing materials and capabilities have also come a long way in the past decade. Projections indicate an even larger leap for the next decade as everything from houses to human livers have been successfully printed out! Large players such as Amazon have also been taking interest in rapid production of bespoke goods. These items can be made on the spot as ordered and would require less space to store inventory. If home units become even more popular it's not much of a stretch to project that Prime could even offer ready-to-print files as customers shift the supply lines to start creating their own hyper-local orders at home to skip the wait and bypass shipping.
RCCtools 3D Printed Controllers
I started offering 3D printing customized 3D printed controllers in 2019 when a customer asked for a custom Roger The Alien enail and I was quoted almost the same amount to have a print made as the cost of just buying a printer and trying it out myself.
It's always fun to explore and design new possibilities. I love finding new designs and fitting the electronics in like a puzzle. Although it takes quite a while for each piece to design then print; it's usually well worth the time and effort in the end!
Fun fact: there are some mushrooms that literally grow faster than some objects that come out of FDM 3D printing, which is the standard method for base-model/home unit 3D printers.
Leveling The Playing Field
Although 3D printing itself is slow, rolling out new designs is much faster compared to fabricating a mold for traditional injection molding — especially if modifications or updates are desired. Producers and hobbyists alike see the appeal in the rapid design and prototyping capabilities that 3D printing brings to the table. Whether manufacturing at a home or on a commercial scale it's a huge advantage to be able to rapidly roll out new designs at a relatively low cost. 

If you're up for the technical and maintenance challenges such as constant tinkering, optimizing, and adjusting, it's high time to get into this hobby since prices have decreased so much in the past decade. However if you'd rather leave it to the experts there are more than a few players out there who are mixing business and pleasure with their own custom 3D printed cannabis gear to bring dab tech and the cannabis experience to a whole new level!
File platforms such as Thingiverse are constantly expanding their offerings of free creative commons files. Users of the platform upload their "makes" and many of these files are printable with very little experience necessary.
Also, many companies in the cannabis industry have incorporated 3D printing into their arsenal. They are creating a variety of innovative cannabis and dab equipment into their product lines. Scroll down to see some of the coolest 3D printed products that I have found so far.
3D Printed Bongs And Rigs: Printabowl
Perhaps some the most impressive examples of 3D printed #stonerengineering are these ceramic water pipes by Printabowl. Aside from the interesting designs, the way they are made is inspiring and innovative: the pieces are not directly 3D printed but rather cast into 3D printed ceramic molds. First, the 3D printer is used to make a mold. The mold is then filled with clay ceramics. The ceramics are fired in a kiln at high temperatures to harden the material and solidify the glazing. What emerges from the ashes is a beautiful piece with intricate details.
Clay is a superior material for this particular purpose compared to the standard 3D printing plastics.  Clay ceramics are much stronger than a typical 3D printed plastic part when it comes to heat resistance. Also, the glazing lends a very slick and smooth finish that makes it pop and shine as you see in these pictures.
3D Printed Bongs And Rigs: Kayd Made
Another impressive piece of #stonerengineering is this mini rig by Kayd Made. It features some beautiful multicolored 3D design work on both the top mouth piece as well as the bottom base. Rather than the entire piece being constructed with a 3D printer, glass tubes are incorporated to allow for transparency and better viewing of the chambers. I'm impressed with how well they were able to face the colors on this one, considering how 3D printing constructs the pieces layer-by-layer. 
This beautiful piece is also made by Kayd Made. Although I prefer the transparency in the previous piece mentioned above, the Giza Rig Series design catches my eye the most out of the 3D printed bong category so far.
I guess I'm just a sucker for pyramidal shapes! I also like how it starts with the standard vase shape of a classic beaker bong yet looks sharp and sleek with it's flat faces and hard edges. The color striping works well with these forms and has a geological feel that reminds me of polished stones that you might see at a gem shop. Although it appears to be made of a type of stone, this beauty is made from the standard 3D printer filament as most of the rest of these pieces are!
Although we probably won't see any actual 3D printed rosin plates come to market until metal 3D printers are developed further, there are options for pre-presses to make rosin pucks. PLA plastic, (which is the industry standard) is more than strong enough for the purposes of making rosin pucks for pressing. Pictured are some examples of pre-presses made by Midwest Concentrates for use with their infamous handheld rosin press, the Cannaclamp. Check me out if you're interested in a puck mold made in American with the extra option to add your logo or artwork.
3D Printed Dab Stations, Caddies, Holders, etc.
Having a good dab caddy to hold your q-tips and dab accessories is essential. No one likes trying to find a capper or q-tip after the dab has already left the dabber. Keeping the tips and tools all in one spot helps to keep the banger clean and getting a good cap on the dab helps it cloud up much more efficiently at lower temps.
I am always designing and updating my tool holders; incorporating various holder combinations to make the perfect fit for any dabber. Pictured here are a few of the latest designs including a dab caddy enail combo which functions as a dab rig base and also has attachment ports for a q-tip holder and other dabbing accessories to go along with your setup.
Scroll to see some more awesome examples of accessory caddies from some of my favorite companies that have put in the time and love into making some great products to hold your tools and dabbing accessories.
RFLDFTHRS Black Dichro All-in-one Station
This gorgeous pearlescent print pops in the sun and features a q-tip holder and capper section on top, as well as two different options for your dabber tools. The cobalt dichro material shines like those crazy diamonds in the sun and is sure to turn heads whether indoors or out.
Zabo designs opened up their Etsy shop in 2019 and have since stepped up their game with advanced 3D printing techniques such as multicolored fades. They also have quite an eye for design (as you can see) and their print quality is on point. Pictured here is a color fade dab tool holder next to one of their capper holders. The dabber tool holder could also probably hold a pop-top dispensary container which you could use to hold q-tips; which is my favorite quick-and-dirty way to "MacGuyver" up a cheap q-tip holder.
Mega Combo Station by Glob Mob
Glob Mob USA has some of the cleanest looking and most functional dab tool holders that I've found so far. They went a step above-and-beyond by adding a silicone ring to the top of the capper holders which helps to keep the cappers from sticking to the holder. Another nice finishing touch is the multicolored prints. They added some gold PLA to pop out against the black and add a touch of class to this pictured multi-tool dab caddy.
TheDabCaddy Mega Dab Caddy
TheDabCaddy (formerly known as Dabfish) looks to be one of the most established players in the dab station game so far. The Mega Dab Caddy has to be one of the most simple but solid designs to hold just about as many tools and nails one could ever need. It comes in a variety of colors, such as the pictured gold model.
TheDabCaddy Puffo Peak Caddy
Here's another great design for those who dig portable dab rigs such as the Puffco Peak. Their Instagram has some of the best photos of their gear @dabfish.co, such as this mean looking shark Caddy for the Puffco Peak
Delta3dstudios Pax 2 Scoop-N-Tamp Tool
Here's one to mavel at which is 3D printed but is not made of plastic. The Pax 2 Scoop-N-Tamp Tool is actually printed in stainless steel, which takes a very specialized 3D printed which is not easily accessible to the home user. This tool is made to fit the "oven"/heating chamber of a dry herb unit so you can perfectly tamp your flower to the right density. This is important with convection style units because the amount air flow determines how much heat will be delivered to the flower. Too dense, and it might not deliver much at first, then suddenly end up scorching the herb. Too light, and not enough air will be forced around the herb. The heat will just pass by and not produce much cloud at all.
Delta3dstudios Honeycomb Organizer Stand
This stand is another one that could hold a really wide variety of tools including a (BIC lighter and some chapstick haha). You could even hold art supplies like paint brushes and pens quite well if you wanted! There's a spot for an 18650 battery, a classic JyARz container, and 14mm or 18mm size dab nails.
GlobMobUSA Quad-Tiered Dab Tool Rack
Here's another goodie by GlobMobUSA. This sleek dabber tool rack looks to be made for those who come prepared for any situation with any type of concentrate since it holds more than one type of dabber. Keep your sauce, wax, and shatter tools together in one spot so you can quickly switch in between for different consistencies of product.
There are probably as many options for mods as there are flavors of juices. The options open up even wider and become more vast as you consider that there are also options to 3D print your own at home!
Some high end 3D printed mods can cost hundreds of dollars due to the care and time it can take to design and craft a beautiful, working product in short-run production. Fortunately, there are ways (as illustrated in the displayed video) that show you how to make a DIY printed mod for less than $15! Check out the video and download the printable file if you have a 3D printer to make and/or customize your own DIY from the comfort of your own home. You could adapt it to make it your own or just start from scratch by doing a few quick measurements of the electronics once you get them.
The file for the pictured Squonk Mech Mod case can be purchased for just $2.12 and printed at will. The only additional costs are your time, electricity, and a small amount of plastic filament for the printer. After that you just need to purchase the electronics, which should end up being way cheaper than buying a custom mod outright. There are also many DIY guides for mods available on the internet if you're up the challenge!
RFLDFTHRS Cobalt Rechargeable Temperature Gauge
This gorgeous pearlescent cobalt print pops in the sun and helps you catch the temperature of a cooling banger. This device may prove handy when dabbing out in the great outdoors and away from electricity while camping or hiking. Apparently it comes with a thermocouple probe that plugs into the front and tests out the temperature of your quartz banger so you can skip the timer.
The Blazer Big Shot 3D Printed Dab Station is another simple yet solid design that incorporates the ever-important timer into a torch-based dab station.
It also features a dabber tool in front. Upon first glance this looks like it's in a bad spot (blocking button access) but not after you consider that you would have the dabber in your hand at that point. I'm loving the early 90's color combo on this one! Brings me back to better times…
The Dabvac is a simple 3D printed product that allows you to dab on the go with the use of a torch. The part that is 3D printed is the joint adapter that connects the glass dish to the hose. It's basically a simplified rig, or concentrates pipe (or a mini concentrates hookah?).
I spotted this interesting device years ago on Instagram; but I never got to try it out! If you have this and love it, please leave a comment or contact. I feel like the heat would melt the plastic being so close to the glass, but I've never tried it so what do I know? It's an interesting idea, at the very least!
710printing was one of the first few that I spotted out there on Instagram 3D printing dab accessories. Although they mostly feature figures such as super hero busts and such, you can scroll through the earlier posts and find some pretty swank-dank gear!
Delta3dstudios Grinder Funnel
This 3D printed grinder funnel is probably one of the simplest but most helpful items on this list that would be the easiest for the beginner to make at home. I can't tell you how many times I've used a rolling paper packet to scrape up and funnel flower into a rolling paper after dumping the grinder out onto a tray — only to notice that I lost many of the crystals on the tray surface. This funnel skips that step and allows you to dump all of those luscious crystals straight into the paper!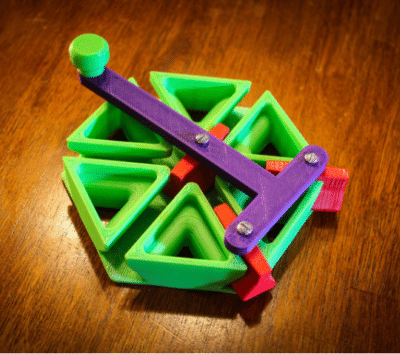 Other 420-Friendly 3D Printed Items:
Trippy 3D Printed objects:
These next 3D printed items aren't necessarily cannabis gear but a lot of you may find them interesting. You can make all of these at home for yourself or have someone with a 3D printer print them out for you:
Driftwood From Fractals: (Thingiverse) (video)
Trammel of Archimedes: (Thingiverse) | (video)
Pyramid Fractal: (Thingiverse)
Customizeable Fractal: (Thingiverse)
OK, Everyone Needs This One At Some Point Whether You Dab Or Not...
This is the most handy and helpful 3D printed "hack" that I've found so far. It's not dab related, but if you're reading this there's about an 85% chance you are sitting on a computer chair. There's another 85% chance that your computer chair will start sinking eventually, as the hydraulic seals wear out and start leaking air. This is the most annoying thing — especially as a tall person with long lege. It's basically intolerable.
So I found the perfect fix for my office chair on Thingiverse. I printed it, and slapped the sucker on with some wire ties as instructed. Voila! No more sinking office chair! It's been solid ever since and surprisingly has not even come close to breaking under the weight of daily use, since it was printed 100% solid with no inner voids to save on material with thick walls.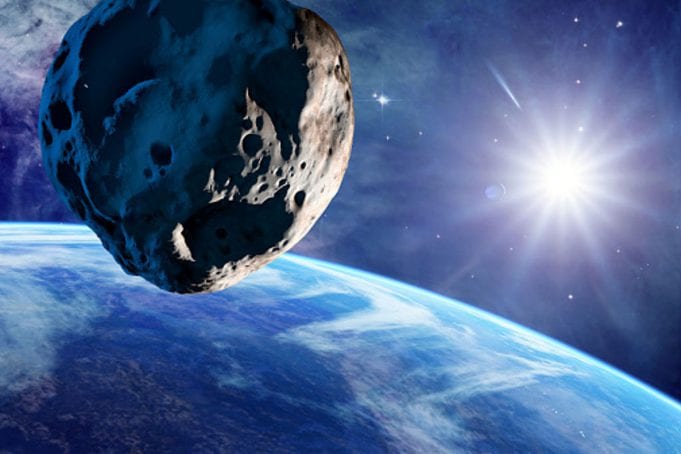 Right now 3D printing can be a bit of a clunky process. You need to find exactly what file you need, make sure there are no errors in the model, get the print settings right, make sure the printer is perfectly aligned and maintained, etc. Limits on materials that most affordable desktop printers are able to use can also be limiting in some cases as far as what objects you can print successfully with full functionality.
However, with advancements in 3D printed housing, organs, medicine, and food, it's logical to imagine a future where a small business or even a household might own multiple types of 3D printers. In the future just about anyone should be able to to fulfill most of their material needs right at home without waiting for someone to ship them their goods or being stuck with a design that doesn't 100% meet their needs.
Localized manufacturing could minimize social, economical, political, and/or environmental impact of global trade. Robot labor will most likely shift the dynamics of world trade to a more localized manufacturing model that reduces the need to ship certain goods across long distances. Combined with AI and quantuum computing, the future could be very bright for 3D printing in so many ways…It's definitely one of those things that will leave your mind blown! 
There's also the impact on the labor force; which has good and bad implications. Robots could either relieve us of more burdensome labor or greatly restrict the ability that one has to produce value and contribute to society. Then again, people might be more freed up from the burdensome tasks and move on to focus on the more interesting tasks such as design and user feedback.

Have an idea for an awesome piece of #dabtech you want to get out there? Contact and let's discuss! NDA's are available if necessary.